All breed grooming is offered at Ri Lee Kennels. Basic services start at $35.00 (plus tax) and include hair cuts/trim, nails, bath, drying. We work well with short notice, but advanced appointments are appreciated. Please contact me for your grooming and/or boarding appointments today!

Handling services are available. Please contact me directly for more information.
Conformation and obedience training available


Experienced all-breed Grooming
Heated indoor/ covered outdoor cyclone runs accessible 24 hours a day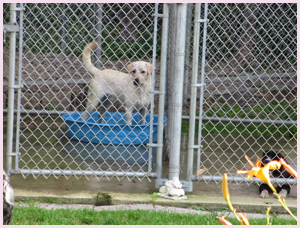 Clean pond for swimming
Biking
"Yappy" hour playtime
TV/Radio played 24 hours a day
Very large shaded cyclone paddock play areas
Breed specific referral program
Discount referral program

What Makes Us Different???
We pride ourselves in having the necessary knowledge and expertise required to care for your pet in the manner it deserves. We have been involved in the canine/ feline business for 40 years; exclusively breeding and showing top winning dogs for the last 30. Your pet not only needs a clean, healthy environment, but also caretakers educated in small animal care and willing to treat your pet as their own and not just a boarder.

Here at Ri Lee Kennels we strive to provide your dog/cat with a healthy, comfortable atmosphere. We are a small kennel with a large amount of experience in the field of caring for dogs/cats. Nikkie Kinziger owns and operates the kennel and lives on the premises. You can feel assured that your pet will always be attended to. Vaccinations are required.

Accommodations include: Breezy, shaded kennel runs outside which are 6x12 foot... the inside runs are 4x4 that go out to 4x10 foot runs. Ri Lee also offers a huge outdoor play yards for your pets enjoyment. Ri Lee Kennels is located out in the country on a beautifully wooded piece of property. Ri Lee Kennels offers a variety of services... Experienced All Breed Grooming, Training in obedience, conformation and obedience training (referrals available), heated indoor/outdoor runs, pick up & delivery service, show dog/pet availability, discount referral program, & NO SPECIFIC SET HOURS!!!